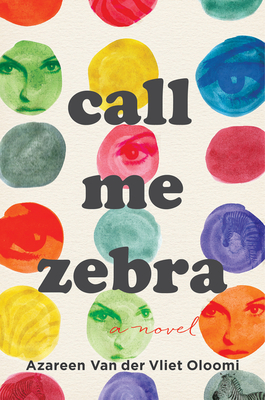 Call Me Zebra, Azareen Van der Vliet Oloomi, Houghton Miflin Harcourt, 2018, 292 pp
I don't imagine this novel is for everyone but I devoured it. I had never heard of it but it came to me in the mail from my subscription to
The Nervous Breakdown Book Club
as the March selection. The author was interviewed on the associated
Other People podcast
, so I knew her background and that just put me right into her unique story.
Zebra is a character who is now burned into my brain. She was born in 1982 in Mazandaran Province, Iran, near the Caspian Sea. Her father, a multilingual translator of great literature, taught her ten languages. He was the last male of four generations of self-taught poets, philosophers, and painters. His method of teaching the daughter who would carry on this line was memorization of long sections from the world's great literature.
Zebra proved an apt and eager pupil who "picked up languages the way some people pick up viruses."
I don't know Iranian history. I have read about the Iranian Revolution of 1979 in Afar Nafisi's Reading Lolita in Tehran. I knew Iran and Iraq had a long war but the rest was a blur to me until President George Bush declared war on Iraq in 2003. If he had had this novel to read, he may have thought twice.
Sometime in the 1980s Zebra and her parents became refugees, fleeing Iran because her father was wanted for crimes against the state. During their treacherous flight, her mother died. Zebra and her father eventually made it to the United States where he died of old age and the sorrows of an exile. By that time Zebra was 22, still studying literature, and made nearly insane by the loss of her final parent.
The rest of the novel relates her method of dealing with it all. She wrote a manifesto containing all her beliefs about what she named The Matrix of Literature, a fascinating piece of philosophy in itself. With help from one of her professors she set off to retrace the steps of her exile as a means to honor her parents and to see if she could recover from her loss and grief. I wondered if all the literature carried in her mind would safeguard her or lead her into a deeper madness.
They did both. Her story is dense with references to literature and with her fragile mental and emotional state. I found Zebra a frustrating character but I also cared for her. Her lifestyle, so capricious and so desperate, made me fear for her while also wishing she could just get over herself.
Ultimately I was thrown into the perils of what she and her family survived. Much of the last part of the story takes place in Barcelona, a city I always love to read about. It may seem that displaced people and unwanted refugees are a recent development but the novel made me remember that these conditions have gone on for time immemorial. Where
Exit West
by Moshin Hamid gave me the bare bones,
Call Me Zebra
gave me the details of how this one family was nearly destroyed by revolution and political turmoil in the Middle East. The author carries similar scars and I think recovered from her own traumas by writing this novel.