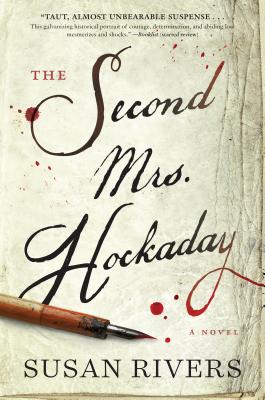 The Second Mrs Hockday, Susan Rivers, Algonquin Books, 2017, 254 pp



I admit sometimes I jump to conclusions. In this case, when one of my reading groups picked this novel, I wasn't paying much attention. I opened the book thinking it was one of those "wife books." Now, along with the adage not to judge a book by its cover comes a new one: don't judge a book by its title.


The Second Mrs Hockaday was a great read as well as a great discussion provoker for a reading group. Placidia is only 16 years old when she meets Major Hockaday who has come to her father's South Carolina home to buy a horse. The next day she marries him. They had one of those love-at-first-sight connections on meeting. Placidia's mother died when she was an infant and while she adores her father she despises her stepmother and her half siblings.
Major Hockaday has recently lost his wife but has an infant son as well as a 300 acre farm. After one day spent settling Placidia at the farm and one night consummating their marriage, he is suddenly called back to the front lines of the Civil War and leaves. It is 1863. The war is going badly for the Confederacy and Placidia will not see her Major again for two years. She is left to raise his son and manage his farm with only a few servants, slaves, and sharecroppers.
The book opens with a letter from Placidia to her cousin Mildred. Now it is 1865 and the war has been lost. The Major has finally returned to find his wife in jail accused of murdering a child she had while he was away. The child could not have been his and due to undelivered letters between them over the past year, it comes as a great shock.
I don't always like a novel told in letters but the author makes it work seamlessly. The back story of this tragic couple is revealed through the letters and this creates a relentless suspense. What Placidia had to endure is shocking and heartbreaking. Most upsetting of all is that the Major believes the rumors and charges against his wife, although they do still love each other, but she is not talking.
The mystery of what happened to Placidia is gradually revealed and I could not stop reading, so great is the need to know created in the reader of this first novel. Susan Rivers is an award winning playwright and clearly a competent historian.
I like war novels that show the impact on individuals and society as the war is fought. I remember the huge impression Charles Frazier's Cold Mountain had on me. At the time I thought it was the best Civil War novel I had ever read. The Second Mrs Hockaday is the second best one.