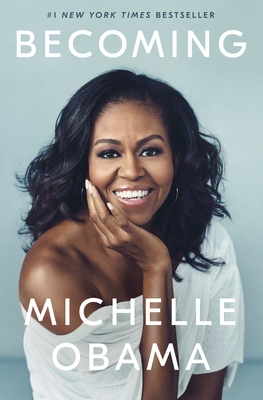 Becoming, Michelle Obama, Crown, 2018, 421 pp
THE SUNDAY FAMILY READ
I have not bought too many hardcovers this year (more than I planned but not too many) but I bought this one. It is the best political memoir I have ever read, because it is by a female and because this female is an outstanding human being!
This is the story of her whole life so far, so it is actually a mid-life autobiography. To learn about the factors that went into making one your heroines is an astonishing experience. I loved how much she lets you in to her heart, mind, and personality.
What is it really like to be First Lady? Well, you will learn that in this book. Any novelist who plans to write a fictionalized First Lady should read this for research.
What is it like to be married to the endlessly hopeful, always reading, never tiring Barack Obama? It is not easy, as you could imagine, but she loves him so much!
What is it like to raise two daughters for eight years in the White House? A challenge and she met it with her usual grace and humor. What a cool mom!
I think what I loved most though was reading about her worries, her insecurities, her obsessions. I bet she even played them down some, because come on, a Black woman in her position?
"When they go low, we go high." Channeling Martin Luther King, James Baldwin, Toni Morrison and every long-suffering, long-loving Black mother who lives to make sure her children grow up, make a life, realize some dreams. As far as I am concerned that statement is the first commandment for making positive change. Michelle Obama's story is a handbook for how it is done.
I admit I spend far too much time on toxic Twitter. I can't stop, no matter how riled up and anxious I get. Becoming was like the ultimate anti-anxiety, anti-depressant. I don't take those in pill form, I get that effect from reading about heroic people who truly effect change. I was reminded that this time we are having now, this too shall pass. I was reminded that we were set an example of what leadership looks like, what patriotism looks like, what social justice looks like, by two people with all their perfect imperfections who actually give way more than a f*#k about our country and the world.
Becoming is an incredible achievement. Just read it!