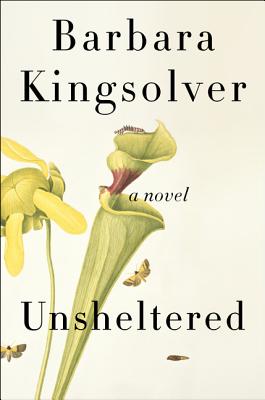 Unsheltered, Barbara Kingsolver, HarperCollins, 2018, 461 pp
As far as I can tell, readers either love Barbara Kingsolver's novels unconditionally, love her earlier novels but not anything after The Poisonwood Bible, or complain bitterly about her "preaching." I fall in the first category. I love the many ways she has branched out and matured as a novelist. If anyone is going to preach to me it will be her.
Unsheltered has a complex double plot. One is in the here and now with all the tensions of our contrasting American outlooks. The other takes place in the same New Jersey town, in fact in the same house, during the post Civil War period when religious bible thumpers were desperate to discredit Charles Darwin.
In her brilliant fashion she gets to include the natural world, politics, social friction, and generational family misunderstanding. The super-imposed images of a house falling down around its occupants while those occupants were restrained from repairs by a lack of finance works as a perfect metaphor for people caught up in social change.
What spoke to me the most though was the relationship between the present day Willa and her two adult children. Willa and I share a secret sorrow. We thought we did our best for our children only to wake up one day and find that they feel we were major screw ups as moms.
What's more, we do not understand their approaches to life. All we can do is worry. I really, really loved the ways that Willa's daughter Tig (nickname for Antigone, don't ask, you will find out) explains the world we live in now to her bewildered mother.
The novel completes a full circle for the author. In her first novel, The Bean Trees, daughter Taylor Greer rejects her rural background. In Unsheltered, Tig returns to the simple life. What remains true is the divide between parents and kids. What is even more true is the kids always have a plan.