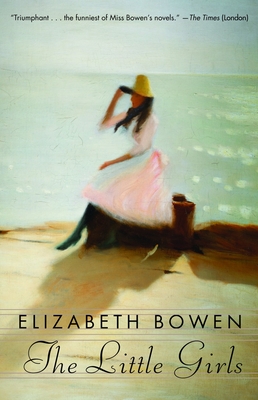 The Little Girls, Elizabeth Bowen, Alfred A Knopf, 1964, 307 pp
I don't think people read Elizabeth Bowen much anymore, except for a few of my friends on Goodreads. She began publishing novels in the 1930s, a bit prior to where My Big Fat Reading Project begins at 1940. I have read three of her novels now. I began with
The Heat of the Day
, found in a used bookstore in Ireland in 2005. Then I read her atmospheric
A World of Love,
set in a crumbling Irish manor house.
The Little Girls was published in 1964, the year I am currently, though slowly, reading. As in the two others I have read, I had to slow down and adjust to her sentences. Not many authors these days write sentences which require the reader to pay attention. I fear that a deadly combination of MFA programs, bestsellers that take no more effort than watching TV, and lowering literacy rates (I know, I am a snob) have put us out of the habit of following such sentences. However, in the way that a soft spoken person draws you closer, so does she pull you in towards her carefully developed characters.
Three British women who were friends in school just before the outbreak of WWI are brought back together by the eccentric Dinah in the early 1960s. Their reunion is fraught with all their old rivalries and escapades. The novel moves between those two time periods, a commonplace in many of today's novels though it has been done before and in this case both are equally compelling.
It took many pages for me to identify the three characters because Bowen is (deliberately?) vague as to who is speaking and each one has a nickname as well as a new last name in the present time. Again, she was requiring me to pay attention and pulling me in, page by page, as to how and why those three little girls got up to such pranks and why that might affect them later.
By the end, I felt I had known these women for years. I loved the way she showed that we don't change much, that our embryonic personalities in childhood stay with us as we mature, though with age comes an ability to better understand those we have known since those early years.