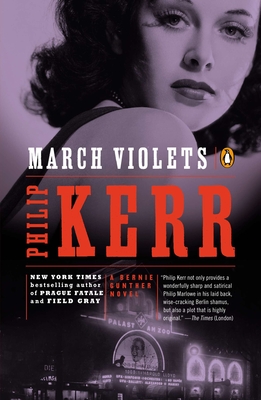 March Violets, Philip Kerr, Viking, 1989, 246 pp
This was a reading group pick and I liked it but was not sure it was what I wanted to be reading. It is a crime thriller with the twist that it is set in Berlin during the early days of Hitler and the Nazi party of 1936. A historical crime thriller then with a heavy dose of noir. In fact it is the first of Kerr's Berlin Noir trilogy.
Bernie Gunther is an ex-policeman turned freelance private investigator. His specialty is finding missing persons. People went missing hourly in those days as the Nazis disappeared Jews and other undesirables either by execution or sending them to the camps.
A wealthy industrialist summons Bernie to find the murderer of his daughter and son-in-law during which a priceless diamond necklace was stolen. The investigation leads Bernie into a political scandal involving none other than Goring and Himmler. The 1936 Olympic Games take place during the novel and Bernie himself does a stint at Dachau before he finds the killer.
Kerr's writing style so completely mimics Raymond Chandler that I wondered if the author was using a pen name. The difference is that the underworld of Berlin is also the government. March Violets, named after a derisive term referring to new Nazi party converts, evokes the time period when it was safer to be a Nazi even though most Germans hated the idea.
The pace is fast, the clues and dead bodies pile up, and the only reason you know Bernie is going to survive it all is that he appears in eleven subsequent books. At first I found Bernie's tough, fast-talking cynicism a welcome change from all the dour grief of any story involving Hitler, Nazis and the Holocaust. However, since Hitler, the Nazis and the approaching final solution are the setting, it is after all another 246 pages of all that horror.
I might read more of the series but not right away. Some reading group members felt they learned lots of history while reading but I have read so many novels set in the period I did not feel newly enlightened.