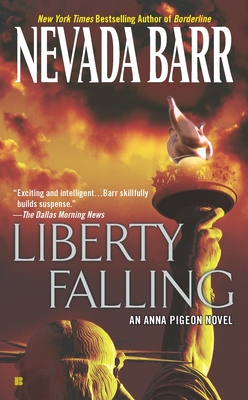 Liberty Falling, Nevada Barr, G P Putnam's Sons, 1999, 321 pp
One more post before it is officially Christmas Eve, because I am determined to end the year with all the books I have read reviewed!
Mystery writer Nevada Barr was a ranger at various National Parks and has written 19 novels set in the parks. This one is her seventh and I have been reading them in order. I read them in the spirit of reader activism during these days of the current administration's tactics favoring profit over preservation when it comes to our supposedly protected national lands.
Liberty Falling takes place at the Statue of Liberty and Ellis National Monuments on Liberty and Ellis Islands. Park ranger Anna Pigeon, the protagonist in all of the novels, is on leave of absence to be with her beloved sister Molly, in intensive care after a case of pneumonia turned dangerously complicated. Since park rangers are relatively low paid government employees, Anna is staying with a friend on Liberty Island.
As she often does, Anna finds herself in emotional turmoil, fearing she will lose her sister and abhorring the crowded confines of New York City where her husband died many years ago. When she is not at Molly's bedside, she prefers exploring the overgrown abandoned hospitals, medical wards and old staff quarters on Ellis Island.
Then the tension builds further after Anna tumbles through a crumbling staircase in one of those buildings. Was it an accident? A young girl falls to her death from a Statue of Liberty lookout. Was she pushed? Finally a park administrator dies from a similar fall and Anna goes into full investigator mode because though she is officially on leave, investigating is what she does wherever she is.
If you have read the earlier books you may remember a certain FBI agent who has been romantically involved with both sisters. He shows up too! I say this every time I read another Anna Pigeon story but the author has once more outdone herself with her plotting, her dives into the psychological depths of her characters, and the intricate building of suspense.
Liberty Falling is set in the late 1990s so the Twin Towers still loom but terrorism within the United States shows its ugly face before Anna solves the several mysteries that have entangled her. Nevada Barr is firmly in my top three favorite female crime novelists alongside Sara Paretsky and Tana French.