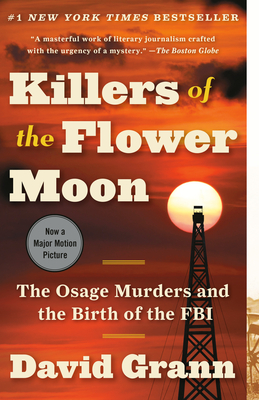 Killers of the Flower Moon, The Osage Murders and the Birth of the FBI, David Grann, Doubleday, 2017, 291 pp
I have been interested in this work of investigative non-fiction but it took one of my reading groups to get me to read it. Winner of the Edgar Award for Best Fact Crime, nominated for the National Book Award, and a bestseller in 2017, it is an excellent account of one of America's most brutal criminal conspiracies. It made my blood boil.
In the 1920s, oil was discovered beneath the ground on the Osage Indian Nation reservation in Oklahoma. These were not the original lands of the Osage, but the rocky, presumably worthless territory they were driven to from their home lands in Kansas. Thanks to a wise and wily Osage leader, the Oklahoma land and any minerals beneath belonged to the tribe by American government decree. To obtain the oil, prospectors had to pay the Osage for leases and royalties.
Thus these native Americans became the wealthiest people per capita of the world at the time. Of course, our government has a pitiful history of going back on agreements made with the natives of this land. Once the millions started rolling in, a new law was passed requiring the Osage to have white "guardians" to manage their wealth. Such guardians cheated many of the people out of the money and became rich themselves.
However, that was not enough to assuage the white man's greed. Some of them began to marry into Osage families and then systematically kill off the Indian owners of the oil leases by outright murder and secret poisoning.
David Grann, through years of research, put together the whole sordid story including the partially successful work of the fledgling FBI, newly under the leadership of J Edgar Hoover, to uncover the criminal activities behind the killings. Therein lies another whole story of Hoover's questionable motives for creating an investigation in the first place.
The book reads like a murder mystery although I admit I did some skimming through many pages of procedural and trials. My husband, who also read it and enjoys crime stories, as well as many of my reading group members who work or have worked in the legal profession, loved all that stuff.
I am glad I read the book. By now it is old news as far as the historical and present day perfidy that defines America's dealing with the natives of our land. This book filled in another piece of that tragedy. Though I live with all the benefits of the white, European mad quest for progress, I can never be entirely proud of our legacy.
I will never understand these rapacious methods of conquest, though they have gone on for millennia. If a reckoning ever comes, books like these will show what and how much atonement must be made.
(Killers of the Flower Moon is available in paperback on the shelves at Once Upon A Time Bookstore.)