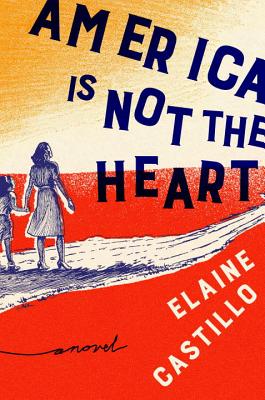 America Is Not the Heart, Elaine Costillo, Penguin Random House, 2018, 408 pp
I read this debut novel because it was a contender in the 2019 Tournament of Books. It did not win though another debut novel I read did: My Sister the Serial Killer.
While I ended up liking the novel, I felt it suffered a bit as far as structure went. It jumps back and forth in time quite frequently. I could tell that the author was relating the main character's present life to incidents from her past but it was somewhat awkwardly done. I often felt like I needed more information sooner than I got it.
Other than that, I was caught up in the story of a late 20s Filipina come to America because the Philippines had become too dangerous for her. Her name is Hero and she was born into a wealthy family. After spending some years studying to be a doctor in her home country, she went rogue and joined the resistance to its current government.
Hero spent 10 years hiding out with a cadre of resisters until finally she was arrested, imprisoned and tortured. After her release, her uncle, now in America, pulled strings to help her emigrate. In the present time she is living in Milpitas, CA, a suburb of San Francisco in a section called the South Bay, now part of Silicon Valley. She stays in her uncle's house in a neighborhood of Filipino immigrants helping out with her young niece.
The story tells how she deals with her PTSD and her bi-sexual orientation among a heavily Christian group of people. She also comes to terms with her birth family in the Philippines while finding her place with her new family in Milpitas.
I am glad I read America Is Not the Heart. I never knew much about the Philippines beyond its figuring in WWII and I learned plenty. I enjoyed reading about the customs, ceremonies, food and interactions of the Milpitas Filipino community.
While living at our previous home, my elderly neighbor had a live-in caregiver who was a Filipina. They were both lovely women and we became friends as we shared a driveway, but I never asked Denia about her background.
Back in the 90s, when I used to tour to promote my albums, I played at a Borders Books and Music store in Milpitas, never knowing about the Filipino community there. Music played a big part in the book, both traditional and popular. The people would have parties in their garages, sitting on the concrete floor, drinking and eating and dancing to the tunes spun by one of their people who worked a side-line as a DJ.
All part of the tale of immigrants in America.