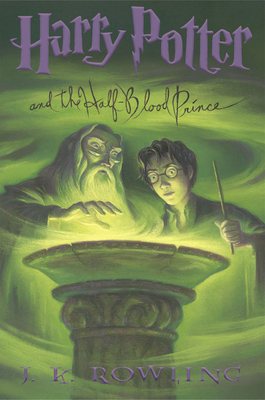 Harry Potter and the Half-Blood Prince, J K Rowling, Scholastic Inc, 2005, 652 pp
I first began to read the Harry Potter series in 2000 and made it through the first three books. My granddaughter was given the first book to read by her third grade teacher who had singled her out as one of the best readers in the class. Since it was I who taught her phonics, I was proud. In fact, she has never liked reading fiction and she didn't finish the book. When I read it I thought it was pretty advanced for any third grader.
In 2007, when the final volume was about to be published, I was working in a bookstore with a thriving children's section. All these kids were reading the series and the level of excitement about Deathly Harrows was immense. We were having a release party at midnight on the release date which required pre-purchase of the hardcover book as admission. The event sold out weeks ahead.
I had wanted to be ready. All employees would play one of the characters at the party and I was to be Miss Trelawney. Since it had been seven years, I had forgotten most of the story. I started over at the beginning a month before the party, but only made it to HP#5, The Order of the Phoenix. I think I was pretty convincing as Miss Trelawney, dressed in flowing shawls and sitting at a table telling fortunes. I had one of the longest lines!
Books #4 and #5 were each double the length of the first three books, Harry was extremely stressed out and in a bad mood for the whole time, and time was up for me. I never went back for the final two books until last month when I needed something magical to get me through the end of my illness.
I have liked all the books but I think Half-Blood Prince is my favorite so far. Harry is in his final year at Hogwarts, he is not longer a kid but a 17 year old teen. The content has become Young Adult, though nothing more than snogging goes on.
Anything I could relate about the plot would be a spoiler. The action is fast and shocking, even more dreadful at times than anything that came before, and I was impressed by how well J K Rowling portrayed her teenagers. Harry learns quite a bit more about who he is and what might be his destiny. I am committed to finishing the final volume soon.
I recently began following a blogger new to me. Brian has been reading the series and blogging about it as he goes at http://briansbabblingbooks.blogspot.com/. I have him to thank for the inspiration to find out the rest of Harry Potter's story.