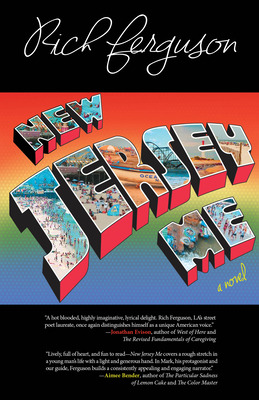 New Jersey Me, Rich Ferguson, Rare Bird Books, 2016, 327 pp
This was another
Nervous Breakdown Book Club
selection, from November, 2016. (I have only got one more book from 2016 for the TNB. For those of you working on the unread books on your shelves, congratulate me for another one down!)
I have truly come to appreciate the books from this subscription for introducing me to authors and indie presses I might not have found on my own. Rare Bird Books is right here in my own city. Rich Ferguson lives here now but he grew up in New Jersey. He is also a poet and a musician.
New Jersey Me is his debut novel. I grew up there too but in the rarefied, privileged town of Princeton. Ferguson's NJ is one of those depressed, blue collar Jersey shore towns, Springsteen territory, teenage sex and drugs and rock and roll.
His protagonists Mark and Jimmy are bored, horny, 15 year olds prone to skipping school, staying stoned on their moms' prescription meds, pot and beer. They also read books and listen to music constantly. Mark's dad is a cop, his mom a Mary Kay superstar. The two have been separated since Mark was about six, after his mom walked out and basically left him with his authoritative but distant father. Jimmy has two parents at home who let Mark stay there whenever he needs to but are blissfully unaware of most of these boys' escapades.
All Mark wants, besides the usual teenage boy's needs, is to get away, preferably to California. This is the story of how he survived that town until he achieved his goal. It is its own fever dream, gritty and wild and full of a certain heart. Like early Springsteen mixed with Fleetwood Mac desires and daredevil Joan Jett type girls.
If you have ever read and liked Tom Robbins, Ken Kesey, Kurt Vonnegut, Kerouac, Chabon, you will like New Jersey Me. If you grew up there, you will love it.