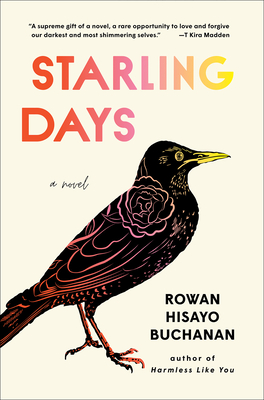 Starling Days, Rowan Hisayo Buchanan, The Overlook Press, 2020, 289 pp
This novel was the April selection of the Nervous Breakdown Book Club. I hesitated to post my review since it was the least favorite of the books I read in August. It features a main character who suffers from depression and was hard for me to read at times but I decided to share what I got out of it because it was important to me.
Mina and Oscar have been a couple for many years and finally marry. Mina is a highly educated young woman who teaches and is working on a PhD in literature, specializing in Greek myths. Oscar works as a salesman for his Japanese father's liquor business.
On their wedding night, Mina attempts to end her life with pills. This we learn in the first chapter when Oscar is called by police to pick up Mina, whom they found at midnight leaning over the edge of the George Washington Bridge, known as a location for suicides.
Oscar decides to move them to London while he does some work there on his father's property, thinking a change of scene will be good for Mina. It does not help much, her depression has it in its grip, her meds are not working, and though Oscar tries to protect her he is becoming overwhelmed.
As the story goes on, it reveals the many early traumas of both. I liked the ways the author described each one's coping mechanisms but the choices both were making made me wonder if they would make it. I grew a little weary of being inside their heads and could not guess whether the ending would be happy or tragic.
I am not sorry I read Starling Days because it helped me understand a few things. I have always had an aversion to the subject of mental illness. It frightens me. After I finished the book I realized that I was raised to repress my own moods and occasional bouts of depression, to pretend I was fine, to keep up with life and family and work duties no matter how I felt.
I guess I am fortunate to also have a strong, even sometimes happy side and to have never succumbed. Currently I have a friend who suffers from depression and have had to figure out how to relate to her when she is overcome. Buchanan's novel gave me insight into and more empathy for my friend.