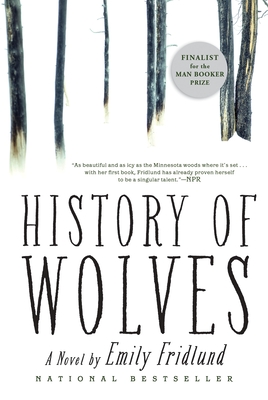 History of Wolves, Emily Fridlund, Atlantic Monthly Press, 2017, 275 pp
This reading group pick, a finalist for the Man Booker Prize, was a beautifully written first novel that did not entirely work for me. Despite the wonderful prose, it was unrelievedly sad. Perhaps I was not in the mood for so much sadness.
Linda tells her story from memories she has as a young woman, interspersing details of her current life. It is obvious that she has not moved on from her odd childhood and her traumatic high school years.
She has no memory of a mother in babyhood, just another girl child with whom she slept. The commune in the northern Minnesota woods where she was born dissolved, leaving a man and woman whom she calls mother and dad. Her only friend growing up was a Native American girl named Lily.
When a family moves into a cabin across the lake, Linda becomes the babysitter for their four-year-old boy, Paul. This is such a Are You My Mother? story. Sometimes Linda wonders if the cold, reproving aging hippy she calls mother is really her mom. Perhaps Paul's mother would be a better one.
The Gardner family is almost more weird than Linda's own but it takes the whole book to find out why. By then Linda feels complicit in the tragedy that strikes them.
The disjointed, dreamy tone got to me. This study in human disconnection without any glimmer of hope left me depressed. Some say that we read to know we are not alone. I am not anywhere near as alone as Linda, but all these lonely people got into my soul and I was just bereft.
Unfortunately I missed the reading group discussion due to illness, but several of them emailed me their thoughts and it was clear that even after a good long talk about the novel, they were not able to pinpoint exactly why no one liked the book entirely.