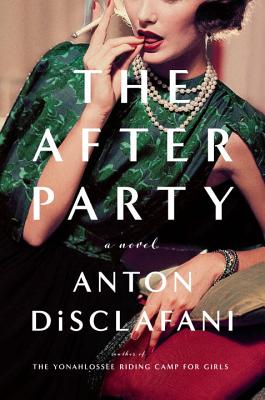 The After Party, Anton DiSclafani, Riverhead Books, 2016, 369 pp
This was my final selection for my self-created 2018 challenge to read a book a month from the last 12 years of my TBR lists. I have mixed feelings about it. I absolutely loved this author's debut novel,
The Yonahlossee Riding Camp for Girls
. This second novel, though it mines similar themes, did not quite measure up to the wonder of the first one.
Set in the 1950s uber-rich Houston, TX, neighborhood of River Oaks, it is almost a psychological thriller. Joan Fortier and Cece Buchanan have been best friends practically since birth. When Cece's mother dies, she is taken in by the Fortier family at 14 years of age, since her father had abandoned his wife and daughter and remarried.
As they move through high school, Joan becomes stranger and wilder every year while Cece becomes obsessed with their almost sister-like relationship. Thus the plot revolves around why these two act the way they do and whether or not Cece will follow her friend into self-destruction or take advantage of her good fortune to create the life she wants.
It is also a story about the truly horrible things mothers do in trying to keep daughters "pure" and "acceptable" and, truth be told, safe. An age old problem that is always made more tricky when the daughter is into sex and rebellion and not at all interested in being pure or acceptable. The Yonahlossee Riding Camp For Girls was another version of that story.
I can't quite put my finger on why I liked The After Party less. The plotting was tight and good, though the characters were less well drawn. The atmosphere of oil wealth and privilege was clearly well researched but this time the author seemed more removed from the scene and her research overwhelmed the emotion. I found the ending weak and not completely believable.
Still, I do admire the author's unflinching ability to take on the disastrous results when mothers fail to help their children navigate puberty. That is how we end up with the whole ridiculous scene we still have when it comes to sex. Patriarchy is the more guilty party but Matriarchy follows close behind. OK, I said that, though I also think an enlightened matriarchy could solve the whole thing in a few generations.