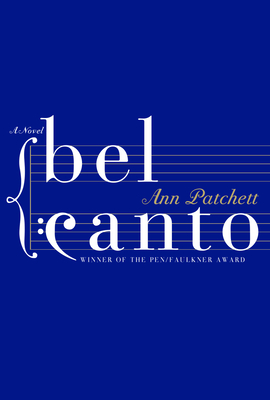 Bel Canto, Ann Patchett, HarperCollins, 2001, 318 pp
I first read Bel Canto in 2004, before I was blogging though I was keeping a fairly thorough reading log. The novel was my introduction to Ann Patchett and I have since read almost every one of her books.
This is what I had to say about Bel Canto back in 2004:
"An international opera star, a Japanese businessman, his interpreter and others are taken hostage in the home of a South American Vice President.
The power of music transforms all these people. The hostages as well as the terrorists (who are poor people from the jungle) all undergo changes. Several people fall in love across political and national and even language barriers. It has a surprise ending.
Much of what happens is fairly improbable but it is that which makes the book so charming. It is purely a work of imagination. The writing is beautiful with a nice light touch. Completely a pleasure."
I still find that a correct assessment. In 2004 I read it for a reading group discussion at my local library. This time I reread the book for Molly's Group. At my suggestion we made an event out of our meeting. We went together to watch the movie, then gathered at Molly's mom's home to discuss.
Most of us loved the book. Rereading it, I loved it even more. Also most of us felt the movie fell far short of Ann Patchett's exploration of the inner lives of the characters. I however, was entranced throughout the film and merely dubbed in what the characters were thinking and feeling because the novel was still brilliant in my memory.
Julianne Moore was excellent as the opera singer, though being a singer myself I was not convinced she was actually singing. She was not. She was lip synching to Renee Fleming who almost made me like opera.
In summary, if you liked the novel I recommend the movie despite it shortcomings. It is showing only in a limited number of theaters in Los Angeles so I predict it will not stay for long, possibly not past this Thursday. It is not nearly as bad as the negative reviews would lead you to believe.