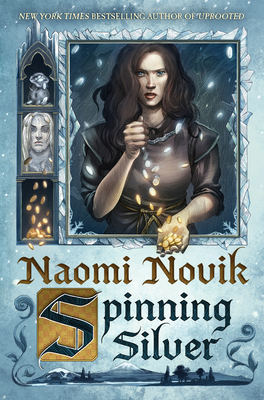 Spinning Silver, Naomi Novik, Del Rey, 2018, 466 pp
Two years ago I read
Uprooted
by Naomi Novik and liked it so much I kept an eye out for her next book.
Spinning Silver
was just as great.
The story is loosely based on the Grimm's fairy tale Rumplestiltskin. Miryem, daughter and granddaughter of Jewish moneylenders in a place similar to medieval Russia, becomes so frustrated with her father's failure to collect on the money he has loaned that she sets out to collect it herself. She proves to be so good at it that she attracts great danger to herself, her family and her town.
The small village where they live is on the edge of a magical forest ruled by the Ice King of the Staryk, who have the power to create winter year round if they wish. It is not long before Miryem is captured and held by the Ice King because she can change silver into gold.
Miryem is just one of three brave women, all of whom discover powers they had not known they had. Irina, married off to the current Tsar, and Wanda, daughter of a drunken peasant who owes Miryem's father. Both become inextricably tangled with Miryem's fate. Between the three of them they overcome the Ice King, a demon who inhabits the Tsar, and Wanda's father. In doing so, each young woman finds her heart's desire.
This is a complex and magical tale involving duty, love and sacrifice. The characters are so wonderfully wrought and the dangers so frightening, I was swept up by the story and held captive myself.
I loved how each young woman walked the knife edge between desire and family obligation; how doubt of success and fears of betrayal required their courage; and especially how each one found that courage within herself.
This is what we get when women write our fairy tales!