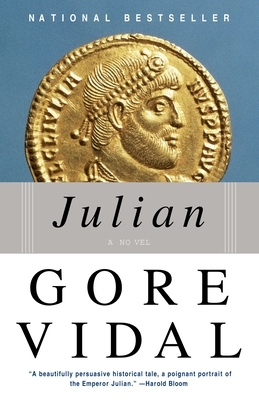 Julian, Gore Vidal, Little Brown and Company, 1964, 502 pp
Though it took me a full week to read, this is an excellent piece of historical fiction. Gore Vidal was known for many things. One of those was his historical fiction, it being one of the several ways he examined corruption and militarism in government. He does this brilliantly in Julian.
Julian the Apostate was Emperor of the Roman Empire from 361-363 AD. His attempts to re-establish pagan polytheism and counter political subversion by Christian monotheism were short-lived though they continued to resound for centuries. This fictional account shows how he grew from a child who feared for his life into a philosophy student and then became Emperor against all odds. It was then that militarism overcame him as a means to complete his aims and he was assassinated, after which Christianity became synonymous with the failing empire and then became an empire of its own.
The novel is a fascinating account of life in the fourth century from Rome to Gaul to Constantinople to Persia. It is written as Julian's memoirs so all the political and religious upheaval is seen through his eyes. Interspersed are comments and correspondence between Julian's mentor in philosophy, Libanius (who is attempting to write a biography of the man) and Priscus, Julian's former close compatriot who had the memoir hidden away. These asides open up the story to other viewpoints, a good thing because Julian is in some ways an unreliable narrator.
Having studied this period of history in Will Durant's
Caesar and Christ
, it was wonderful to get inside Julian's mind. I read slowly because philosophy, of which there is plenty from Aristotle to Plato and onward, requires a certain kind of attention. I confess that I skimmed over the many battle scenes but the author does painlessly show Julian's military genius.
If you like ancient history, Julian is not to be missed. The parallels with our time are startling and worrisome.