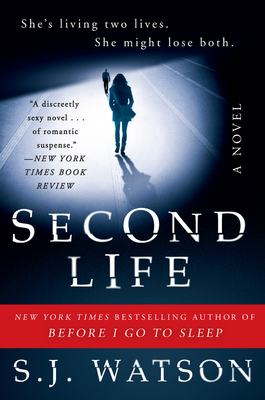 Second Life, S J Watson, HarperCollins Publishers, 2015, 402 pp
This novel, called "a discretely sexy novel of romantic suspense" by the New York Times, was the July, 2016 selection of The Nervous Breakdown subscription book club. I didn't know what to expect. The author's first novel was a big bestseller in 2011 but I had not read that.
Julia lives in London with her husband, a surgeon, and a teenage son. She has a part time job as a photographer. Her middle class life, it turns out, is a second life for Julia. Right away in the first chapter she learns that her younger sister has been murdered in an alley in Paris. Her past comes back to haunt her and she becomes unraveled.
Julia's first life was full of trouble: a mother who committed suicide, a distant grieving father, a four-year-old sister she had to raise from the time she was eleven. In her early twenties she ran off with an artistic type to Berlin where they lived a wild bohemian life leading her to alcoholism and drug addiction. The "son" she has now is actually her sister's child.
Because the Paris police can find no evidence of her sister's killer, Julia begins her own investigation which leads her into the world of on-line sex, something her sister had been involved with. That is where the story gets erotic and Julia's extreme grief leads her into a questionable relationship.
By that time, though it made me queasy, I was hooked, turning the pages and unable to look away. I am sure there are readers who would be put off, especially because Julia seems so weak and indecisive, so dishonest and impulsive.
I found it all believable due to the character's early life and misspent youth. These are circumstances that can spell doom. The author did a good job with the female characters, with the suspense and even with the sex.
The end is not clear and I know many readers don't like that. You are left to decide Julia's fate for yourself. Annoying as that can be, it got me thinking about the entire story for hours afterward.