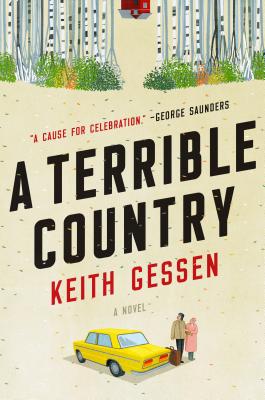 A Terrible Country, Keith Gessen, Viking, 2018, 335 pp
I read this for the Tiny Book Club and because it is one of the three books of the play-in round at The Tournament of Books. I expected the novel to be interesting and it was. I don't know why I am so drawn to Russia but I have read many, many books set there as well as written by Russian authors old and current. Perhaps because for all my life they have been our chief enemy.
A Terrible Country is somewhat subdued in comparison to all those other novels but in its quiet way gave me a feel for what Russia is like now.
Andrei Kaplan, single, early 30s, son of Russian immigrants, dragging out his PhD dissertation in New York, has been called by his brother Dima to return to Moscow and care for their elderly grandmother. Dima had been living back in Russia for some time, as a kind of lesser gangster, but one of his schemes has landed him in enough trouble that he must leave the country or risk going to jail.
Andrei goes. He finds his grandmother in a progressive dementia. He finds Moscow fairly unrecognizable from what he knew in his youth. His Russian is rusty and his money is tight.
His grandmother is confused, a bit rickety though she likes to walk, but when she is not moaning about how all of her friends are dead and how lonely she is, she is sweet. My dad had Alzheimers and though he was not always sweet to my mom or his caregivers, he was always sweet to me. Some years after he died I cared for my mom who had had two bad strokes. So I could relate to the scene of Andrei in a small apartment with this elderly woman, his fumbling attempts to help her out, his frustration and apprehension about losing her. Both of Andrei's and Dima's parents are dead. She is the only family they have left.
Over the course of a year, Andrei learns his way around, his Russian comes back, he finds some guys to play hockey with and he befriends a group of activists who stage small protests against the Putin government. The pace of the story is a bit slow but I didn't mind. Spending 335 pages inside Andrei's head, I came to a fondness for him despite his loser demeanor. He even finds a girlfriend.
But he is no match for these people who grew up under communism and have lived through all the changes since. This is a political story but Keith Gessen makes it personal. That was the main appeal of the book for me since I only know of today's Russia through the news. The other characters make more clear how the country is made up of people, not just their leaders.
Beyond that I got a poignant look at an immigrant who goes "home" only to feel like an exile from America and then to find out how American he actually is.