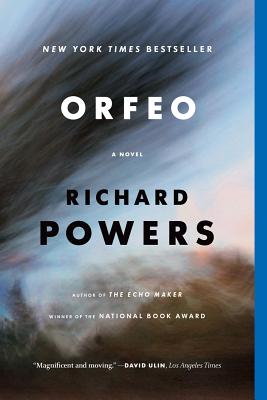 Orfeo, Richard Powers, W W Norton & Company, 2014, 396 pp
Last year I read
The Overstory
. I was majorly impressed. I had not read Richard Powers before but the minute I finished that novel I wanted to read everything he wrote. Rather than go back to his first novel and read forward, as I usually do with an author, I decided to do the opposite. I created a personal challenge to read his novels in reverse order of publication, one per month throughout 2019.
Orfeo
is the novel that preceded The Overstory.
I loved this one as much though for different reasons, the main one being it is centered around music, the deepest love of my life. Peter Els is a composer, just about my age. The novel begins in the present time of post 9/11 days with a catastrophe and then proceeds forward with interspersed sections that trace Peter's entire life. I loved that too because it was like looking at a parallel history to my own.
Catastrophe, mostly self-created, has defined his life. His goals have included composing music that pushes boundaries, seeking connection between music and science (he is also a biologist), and loving his wife and daughter.
These goals clash and bring about a desperate friction between his drive to create and his need for love and human connection. That line from Joni Mitchell: "Caught in my struggle for higher achievement and my search for love" (from the song "Same Situation" on Court and Spark.)
Due to his latest experiment in his home microbiology lab, Peter is being pursued by Homeland Security as a possible terrorist. He goes on the lam, hoping to tie up the loose ends of his life or even possibly escape capture.
After completing this one, I see that to read Richard Powers you must be in shape as a reader. Like being trained for a marathon because you need fitness and stamina. Reading him is exhausting, though in a good way. You must be willing to learn stuff you didn't know before and to suspend disbelief to the utmost.
The reward is to have your thinking opened wide, possibly disarranged, and to find yourself with more ways than previously conceived of looking at life, people, history, science, and the world we live in today.
Not for everyone, I concede, but I love that.