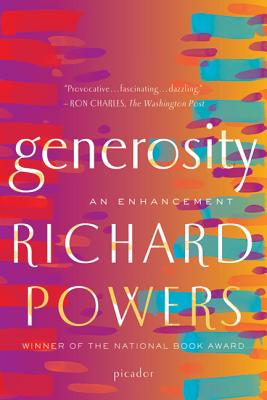 Generosity, Richard Powers, Farrar Straus and Giroux, 2009, 322 pp
Summary from Goodreads:
When Chicagoan Russell Stone finds himself teaching a Creative Nonfiction class, he encounters a young Algerian woman with a disturbingly luminous presence. Thassadit Amzwar's blissful exuberance both entrances and puzzles the melancholic Russell. How can this refugee from perpetual terror be so happy? Won't someone so open and alive come to serious harm? Wondering how to protect her, Russell researches her war-torn country and skims through popular happiness manuals. Might her condition be hyperthymia? Hypomania? Russell's amateur inquiries lead him to college counselor Candace Weld, who also falls under Thassa's spell. Dubbed Miss Generosity by her classmates, Thassa's joyful personality comes to the attention of the notorious geneticist and advocate for genomic enhancement, Thomas Kurton, whose research leads him to announce the genotype for happiness.
Last year I read and loved The Overstory. This year I plan to read all the rest of Richard Powers's novels in reverse order of publication by reading one a month. This is turning out to be quite an immersion into one author and a way of looking back into the last 30 some years of scientific and social history.
In Generosity, Powers combines the science of genetics, an examination of how stories are written, and the ways that science and commerce become entangled. His characters serve his ideas and I am coming to see a pattern in these novels.
The main ethical question he addresses is the use of genetic data to rearrange the human mind and body as a means to circumvent disease and mental illness. A big question!
The inexplicable bliss of Algerian refugee Thassadit Amzwar drives the plot. She is a great creation of a character, at risk of exploitation and the destruction of her personality.
Though this novel did not quite reach the wondrous heights of Orfeo or The Overstory, it was a worthwhile look at the potential dangers and the powers of science in relation to society and the media. If you could give your child the guarantee of happiness by genetic manipulation, would you?