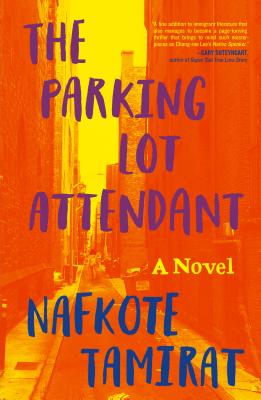 The Parking Lot Attendant, Nafkote Tamirat, Henry Holt and Company, 2018, 174 pp
I read this debut novel about Ethiopian immigrants living in Boston because it was a contender for the 2019 Tournament of Books. I am feeling pretty mighty because this year I managed to read 14 of the 18 books selected for the Tournament, with two more I intend to read over the next month or so.
The story is gloriously off-kilter. If you live in any large city, you probably use downtown parking lots. In Los Angeles these are sometimes in permanent locations and other times are pop-up affairs on evenings and weekends. You turn your keys over to some guy who is clearly not white mainstream American. You hope you get your car back without dents. You don't leave valuables in your car and you are careful not to lose your ticket. Usually you pay a pretty good price for not having to drive around looking for a place to park.
But have you ever wondered what goes on behind the scenes? Wonder no more. The Parking Lot Attendant has two main characters. Ayale, who runs the lot, and the narrator, an unnamed 15 year old girl. All the characters are Ethiopian but you only get to know Ayale, the narrator, and her father.
Ayale is a character right out of an Iris Murdoch novel: charismatic, controlling, hidden agenda. The girl, having an absent mother and a mostly silent father, falls under Ayale's spell. She is in it for the attention she gets from him but does not know enough about the world to understand how she is being manipulated. Ayale turns out to be a schemer, amassing a following and the funds to take back political power in Ethiopia; at least that is his plan.
This novel is a mostly successful mashup of unreliable narrator, coming-of-age, loss of innocence, African politics and the alienation of the immigrant. Pretty good stuff, experimental in an accessible way while it plays on the reader's heart.
By the end I was singing a Beatles song in my head:
"You say you want a revolution
Well, you know
We all want to save the world"
Revolution, 1968