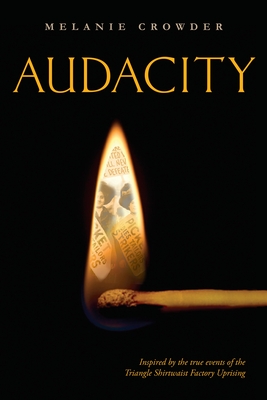 Audacity, Melanie Crowder, Philomel Books, 2015, 366 pp
Although any reading group has its downsides and upsides, one of the benefits is reading a great book I might never have found on my own. Audacity was a reading group pick and an example of such a boon.
It was shelved in the library as Young Adult. While I think it would make good reading for any teen, it is also a fine adult book. It is written in lovely free verse but it reads like prose.
Clara Lemlich was a real person whose life is fictionalized in Audacity. She was born in the late 1800s on the outskirts of a shetl in the Russian Empire. Her father was an orthodox scholar, meaning he spent his life in study while Clara's mother bore six children and ran a grocery store to support the family. Even in such an arrangement of roles, father's word was law. I asked the Jewish members of my reading group if this still goes on today and they told me it does in some orthodox families.
A pogrom in 1903 led Clara's family to emigrate to New York City. Yes, they were immigrants but they had papers so after a long journey with a wait in England, they passed through Ellis Island and began to live and work in the United States. Father continued with his studies, Mother knew no English so took in piece work at home, leaving Clara to go to work in a Lower East Side garment shop.
It was a sweatshop complete with dangerous working conditions, terrible pay, no protection from sexual harassment, and no job security. Being a willful and determined girl, Clara had managed to learn to read Hebrew and Russian despite her father. She also learned math and in America, once she found the New York Public library, she learned English.
Her feelings about injustice after living with the persecution of Jews in Russia was strong. It is no wonder she became a union organizer in New York at the tender age of 18. When she was fired for striking, she convinced her father to get a job.
Clara kept working in the garment shops whenever she could find a position, she was jailed and beaten for striking, and she continued to study. Her dream was to become a doctor, though she eventually turned down a scholarship to medical school in order to continue her union organizing.
She was not an employee at the Triangle Shirtwaist Factory but the fire there that took the lives of nearly half its workers was a catalyst for change. Thanks to Clara and many other women's efforts, they had raised enough awareness so that after the fire, laws were finally passed regulating working conditions in the city. Clara married and had children but she worked for social justice until the end of her life.
I knew a little about these historical developments but had not heard of Clara Lemlich. Seeing it through her eyes brought home to me how tough it all really was.
Great inspirational read.