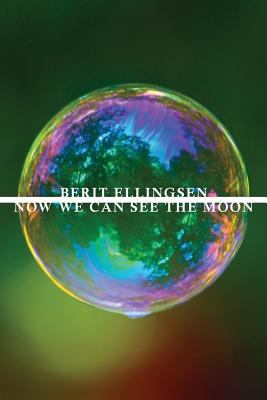 Now We Can See the Moon, Berit Ellingsen, Snuggly Books, 2018, 250 pp
I don't remember how I learned about Berit Ellingsen but somehow I did and two years ago read her brilliant and disturbing novel
Not Dark Yet
. She is a Korean-Norwegian science writer and novelist, living in Norway. I have been following her on Twitter (@BeritEllingsen) and last year experienced her journey to Antarctica through her tweets and excellent photos.
Now We Can See the Moon
opens with a devastating hurricane and the description of it effects. Think Houston, Puerto Rico, etc 2017, only 100 times more destructive. Think J G Ballard's
The Drowned World
. As in
Not Dark Yet
the location is unnamed except for being somewhere near water in the Northern Hemisphere.
The second chapter introduces the relief team, arriving by helicopter in their very own country. In all their years of experience providing relief for weather disasters around the world, they had never encountered such a thing at home. So it has happened. The growth rate of climactic disaster has outrun the capability of the planet's relief organizations to keep up.
In chapter three, Brandon Minamoto, the main character from
Not Dark Yet
, reappears. He is still living in his cabin in the mountains but the hurricane reached him there. Once the storm subsides he sets off for his home city to see if he can find his family and boyfriend. After a treacherous journey with echos of McCarthy's
The Road
, he arrives at his destroyed apartment building and eventually discovers the relief team.
He joins them in their efforts, being a steady, brave and resourceful guy, hoping for help in finding his loved ones. Things go from bad to worse as the team is cut off from any support by their sponsoring organization.
This novel is a chilling portrayal of what may be coming. It is actually quite devoid of some of the bells and whistles of Cli Fi but no less, maybe even more evocative of the psychological damage these disasters inflict on the survivors and on those who do their best to find and help them. It is also an inside look at the political and financial backdrop to such work. If it is even remotely true, it is a harrowing look at how unprepared we are for what lies ahead.
I wish Ellingsen would be picked up by a mainstream publisher and thus be exposed to a wider audience. I fear she may have too much truth to tell. So I, with my small voice and presence in today's cyber world, have become a champion of her very conscious and prescient message. Berit even mentioned my name in the acknowledgements. I wasn't expecting that but it was wonderful to know that she feels my support.
If you want some deep dark awareness of why Puerto Rico is still so ruined just read this book. If you want to bolster your already woke awareness of what climate change can do, just read this book. The last two pages will even bring you to a vision of hope for poor beleaguered Earth.
Buy it from your favorite bookseller (it is in paperback), read it, pass it around. Thank you!