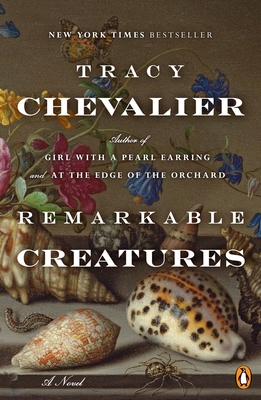 Remarkable Creatures, Tracy Chevalier, Dutton, 2010, 310 pp
This was my May selection for my 12 Books To Read From My TBR Lists challenge. It was so great! I was inspired to read it after I finished
The Essex Serpent
by Sarah Perry.
Remarkable Creatures
is a fictionalized account of Mary Anning, one of the world's first women to make advances in the study of fossils.
Many factors combine to make this such a good historical novel, not the least of which is Tracy Chevalier's writing. The setting on England's windswept coast of the English Channel, the symbolically rocky friendship between Mary and middle-class spinster Elizabeth Philpot, the conflicts between science and religion, as well as between men and women, and the exciting advances made in science during the early 1800s.
Mary was poor and uneducated but gifted when it came to spotting fossils. She discovered a formerly unknown species from ancient times resulting in a shake-up in the scientific community and the usual attempts of men to take credit for and undermine the work of a female.
The book is a great testament to independent women, female friendship, smart women, and the ways that driven, talented, stubborn women can overcome misogyny. Of course, the price paid is terrible but sure makes for great tales!