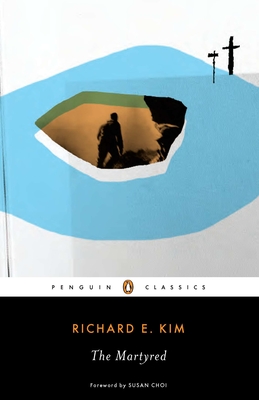 The Martyred, Richard E Kim, George Braziller Inc, 1964, 316 pp
The Martyred was #7 on the 1964 bestseller list. Though I did not completely dislike the novel, it was so strange I wondered how it became a top ten bestseller.
Richard E Kim was a Korean born author who emigrated to the US in 1955 at the age of 23, became an American citizen and was educated in political science, history and writing. His profession was teaching at the university level and he received numerous awards and fellowships. In other words, he was the kind of immigrant who worked hard and made the most of the opportunities he found in America, as is true of most immigrants as long as the opportunities are available.
The Martyred was his first novel and concerns the 1950s Korean War from the viewpoint of a South Korean military man. Captain Lee, Army Intelligence, is ordered by Colonel Chang to investigate the killing of 12 Christian ministers by the Communists. Chang wants to determine why two of the 14 ministers rounded up had been spared.
If you know Korean War history, which I did not and had to look up, there was a time early in the war in mid 1950 when the South Korean army occupied the northern city of Pyongyang. Colonel Chang is close-mouthed about his reasons for the investigation but Captain Lee is one who follows orders without much questioning. Neither man is religious but as the story progresses it becomes clear that Chang is looking for some propaganda he can use against the Communists. He wants his Captain to make sure no ministers betrayed others to save themselves. Captain Lee, on the other hand, becomes intrigued by Mr Shin, one of the survivors.
Richard Kim's writing style is spare and almost devoid of emotion with awkward dialogue. I have not often read an American bestseller that feels this way. For most of the story I could not grasp what Kim was getting at in his story. Eventually it became more a story about spiritual conflict among the ministers and their parishioners at that time.
Catholicism first came into Korea from China in the late 1700s. It had a rocky beginning and its members were disciplined or imprisoned by the Korean government. Then followed the annexation of Korea by Japan from 1910 to 1945. Both Catholic and Protestant churches grew during that time and became part of the Korean Independence movement against Japan.
I learned the information in the paragraph above from my own perusal on the Web, done after I finished the book. I also have to thank Min Jin Lee for her wonderful novel
Pachinko
in which she covers some of that history. I found it interesting that initially Christianity in Korea was looked upon as a force for reforming the Confucian system in order to modernize the country.
What I surmise then is that Christianity was a growing religion there for a long time and by the time of the Korean War was also under threat from Communism. Since American bestseller lists in the 20th century often included novels about religion, I can see how this novel might have caught on with the American book buying and book reading public. It also fits in with the extreme anti-communist mood of the times.
While I didn't exactly enjoy the book it did lead to a better understanding of Korea. That is no small thing in these troubled political times when North Korea is still communist with no love for America.