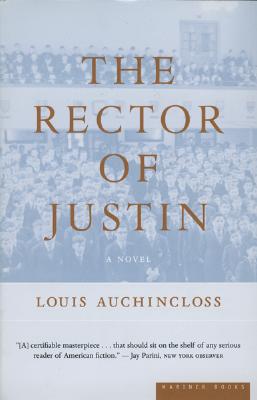 The Rector of Justin, Louis Auchincloss, Houghton Mifflin, 1964, 341 pp
This novel was the #6 bestseller in 1964. I had heard of the author, often written about in reverent terms, but had not ever read him. He wrote 31 novels spanning his writing career of 60 years, served as President of the American Academy of Arts and Letters, and received the National Medal of Arts.
Because he was known for continuing the tradition of Henry James and Edith Wharton in writing about the 20th century American upper class, I was not drawn to seek him out. I must admit that his writing is good and much smoother reading than James or Wharton has been for me.
The Rector of Justin would fall into the genre of boarding school fiction. A rector is a headmaster and Justin is an Episcopalian boarding school outside Boston. Francis Prescott is its founder and aging rector, fighting off retirement as the world changes around him.
Essentially the novel reveals the Rector's life story through the viewpoints of various people including his oldest friend and his rebellious daughter. Like most people, he has many sides to his personality but since he is such a personage with power over boys aged 12 to 17, as well as having a Board of Directors to appease, all of those sides get full play.
I enjoyed reading the book for the range of decades it covers. Wealth does not ensure good behavior. As the 20th century progressed the exclusivity of Justin was encroached upon by the rising middle class and the loosening morals of the times. Bad behavior is where you find it. An aging man, part authoritarian martinet, part moral fusspot, tempered somewhat by his Christian beliefs, Francis Prescott is a personification of 20th century New England and the uneasy relationship between its social classes.
I would have read this book regardless due to the bestseller list so I was pleased to have learned a few more things about those times and to have been entertained by a variety of unique characters.
(Due to its having been republished by Mariner Press this year,
The Rector of Justin
is available in paperback by order from
Once Upon A Time Bookstore
.)