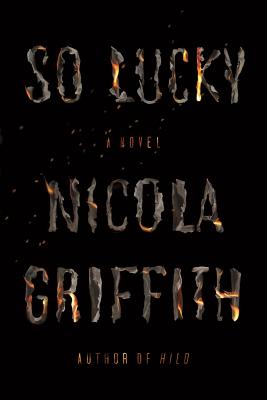 So Lucky, Nicola Griffith, Farrar Straus and Giroux, 2018, 178 pp
This novel was one of the books I picked up at
Literati Bookstore
in Ann Arbor during my vacation in Michigan. I felt so lucky to find it there because it had just been published and my library didn't have it yet.
It is the powerful story of a successful happy woman whose life turned on her in one week. Her wife of many years asks for a divorce and she is presented with a diagnosis of Multiple Sclerosis. Mara, at the time had thought she had been happily married for 14 years. She was a high level martial artist and the head of a multimillion-dollar AIDS foundation she had been instrumental in building. She was not a victim and then she was.
Over the course of the book, Mara comes to grips with her condition and learns how to adapt her fighting spirit to the hand she has been dealt. It is both heartbreaking and inspiring, also something of a psychological thriller because Mara is fearless and gets herself into plenty of danger. Most of all it is the way Nicola Griffith writes about the gritty daily details that brought this reader to an awareness of what life is really like for a handicapped person in our society. I think it would also bring hope and empowerment to individuals who are disabled or chronically ill.
I suppose the book falls into the category of what these days is called auto-fiction. The author was a self-defense instructor diagnosed with MS who has reinvented herself into a full-time award winning writer. She is the author of one of my favorite books ever, the amazing
Hild
. She has written seven novels and now holds a PhD in Humanities. She is an unrelenting champion of women.
The bottom line is that she is a strong writer and creator of fierce female characters. I recommend So Lucky to everyone without reservation.