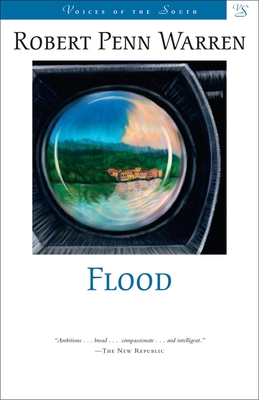 Flood, Robert Penn Warren, Random House, 1964, 440 pp
When I started reading Flood I somehow though it was Robert Penn Warren's last novel and I was sad. When I finished reading what turned out to be a mostly unsatisfying turgid slog, I learned that he had written two more novels in the 1970s and I was sad. Flood did not make me want to read more.
After over 50 wandering and confusing pages, I figured out that Brad Tolliver, a successful mid 20th century screenwriter and Yasha Jones, a famous director (both fictional characters) have come to a tiny Tennessee town to make a movie.
Fiddlersburg is Brad's hometown and is less than a year from being underwater. The Tennessee Valley Authority is building another dam in that controversial government plan to bring electricity to Appalachia.
Brad and his sister are the offspring of a swamp rat father and a respectable woman of the town. The family history is complex and sordid, of the type you might expect in a Faulkner novel. In the course of the novel it all comes out. Brad confronts his many demons and has a sort of rebirth at the end.
This is Robert Penn Warren alright, complete with the search for identity and truth as people sit on moonlit porches drinking, talking, and revealing long buried secrets. It just was not up to the standard that I feel the author set up in some of his earlier books.
It seemed to take forever to read and that melodramatic tendency he had used to good effect in his better novels fell flat for me. I may skip those last two novels. On the other hand, I may read them eventually because he has let me down and then gone on to surprise me before.
Have you read this one or any of his other novels?