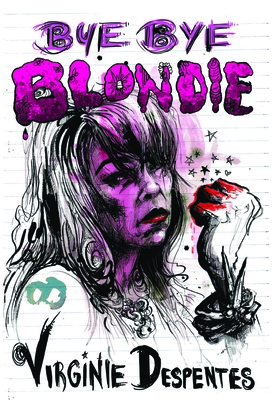 Bye Bye Blondie, Virginie Despentes, The Feminist Press, 2016, 245 pp (originally published in France, 2004, by Editions Grasset & Fasquelle; translated from the French by Sian Reynolds.)
I first learned about this contemporary French author in 2015 when I read
Apocalypse Baby
, a novel she published in France in 2010. Wow! I was an instant fan.
Bye Bye Blondie
is an earlier novel of hers and was not quite as wild as
Apocalypse Baby
, which is not to say it was not wild.
We first meet Gloria roaming the streets in the rain after a violent fight with her boyfriend during which she almost killed him. She is in her forties, she is now homeless and suffers from attacks of extreme rage. She finally reaches one of her few remaining friends who agrees to put her up temporarily.
Then comes the back story of her tumultuous and rebellious teen years. She spent some time on a mental ward to which she was committed by her parents. In part, this is a story of the cruelty of mental health treatment and the lasting effects of it on her life. Basically the treatment turned her from a wild young girl into a mentally ill young girl.
While in the asylum she met her soulmate Eric, also the great love of her life. They remained a couple after being released and led the way in their middle class French town for all the disaffected youth: drugs, 90s punk bands, counter culture on high volume. The relationship did not survive.
Now Eric is a successful, rich TV star and when Gloria runs into him at a party, the love between them reignites. He brings her to Paris where she lives with him in a luxury she had never known and basks in his loving care. But her wounds are too deep. It is wrenching to read about her attempts to fit into "normal" society and her periodic descents into the rage she has carried for so long.
Yet I kept hoping for her, that she could find peace of mind and happiness without sacrificing her independence. In some ways this is a romance, but a feminist romance. It seems to be a hopeless story. In other ways it is a testament to the uses of rage and violence when a woman refuses to be quelled, molded and deceived.
Gloria takes the path that Elena Greco restrains herself from taking in
My Brilliant Friend
. She also reminded me many times of Mathilde in
Fates and Furies
, and of many other heroines I have loved in fiction. Despentes writes with even more power than Ferrante or Groff. The brutal details are probably more than some readers can stomach, but when a woman goes full tilt with her demons and determination the results are not pretty.
Ultimately though, Bye Bye Baby is a testament to love, to a woman finally admitting to herself that emotional safety can be found and acceptance of love does not have to equal captivity. Quite a triumph of great writing and great perception.