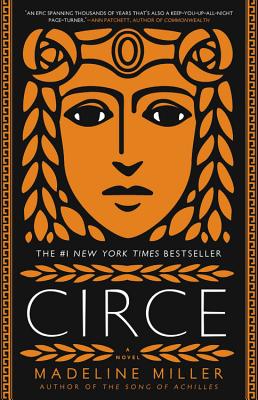 Circe, Madeline Miller, Little Brown and Company, 2018, 385 pp
I was not a big fan of Madeline Miller's first novel, The Song of Achilles. I felt the narrative voice was too feminine for such a male centric tale, based on The Iliad. In Circe, she has totally redeemed herself in my eyes.
I was glad I saved Circe until I had read The Odyssey. In fact, it was just two weeks ago when I finished it. I was still in that world in my heart and mind, so I knew about as much as anyone who is not a Greek scholar about ancient Greece, the heroes and the gods.
Miller provides an extensive list of characters both divine and mortal at the back of the book and I used it often. In fact, I finally got a grip on the difference between the Titans and the Olympians, something I was always confused about when I tried to read Greek myths.
My preparation paid off. I loved the book! Circe as a character was deep, deeply disturbed, but kick ass as all get out. The book just flew by for me with nary a boring moment.
Odysseus was there but only as an almost minor character. He may have lived for thousands of years as a hero in our minds, thanks to Homer, but he was after all a mortal. In truth he lived a short span of years compared to Circe who was after all immortal. Interesting thoughts about lifespans and immortality, about how tales and religion can confer immortality even on humans.
One thing I loved was how well she captured the Greek conception of their deities. She was also good at that in The Song of Achilles. Their extreme dysfunction is in such contrast with modern day sensibilities about our Gods. It is almost as if the Greek gods and goddesses get away with what humans wish they could. And they never feel guilty!
Circe then, comes across as almost an outlier whose sympathies and interactions with humans becomes a sort of redemption. Very clever and provocative ideas are at work in this novel.
Circe will definitely be on my Top 25 list for 2018.