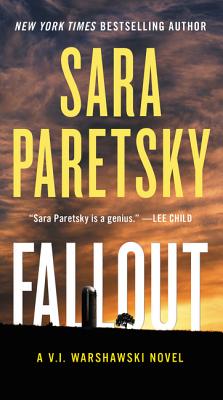 Fallout, Sara Paretsky, William Morrow, 2017, 433 pp
Once again Sara Paretsky gave me excellent value for my reading time. Once again I have read her latest book and now have to wait until her newest one comes out later this year.
I feel like I know her Private Investigator V I Warshawski so well. Almost as well as any longtime friend of mine. There is a lot to be said for following a character through three decades and 17 books, but especially such a complex, competent and fiery character as this one.
In Fallout, V I leaves Chicago for Kansas, on the trail of two missing persons, a vanished film student and a former Hollywood star, both of whom happen to be Black. She runs into plenty of Middle American racism but also long buried secrets. The fields are dotted with abandoned nuclear missile silos from the Cold War and wafts of biological warfare research are blowing through the prairies.
Although Vic has brought one of her dogs along, she is as alone as she has ever been without friends or even acquaintances. When she realizes certain government agencies are tracking her movements through her cell phone and laptop, she is forced to practice detecting by dead reckoning.
Fallout is one of her most exciting books yet.