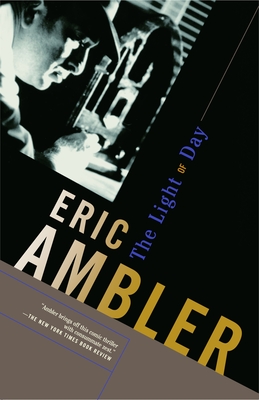 The Light of Day, Eric Ambler, Alfred A Knopf, 1962, 219 pp
Eric Ambler published his first book,
The Dark Frontier
, in 1936. That date falls outside of My Big Fat Reading Project (begins in 1940) and somehow I had never heard of him until I was already reading my list for 1959, when I read
Passage of Arms
. I have got some books to fill in but for now I am just reading the books he published since 1959. This one was published in 1962 but since it won the Edgar Award in 1964, I saved it until now.
The award may have been given in 1964 because the movie Topkapi, based on The Light of Day, was released in that year. Peter Ustinov won an Academy Award for Best Supporting Actor in his role as Arthur Simpson, the main character in the book.
Arthur Simpson is English/Egyptian, living a life of crime in Greece. He has been scamming his way through life as a pimp, pornographer, and petty thief. At the beginning of the book he has fallen into deep trouble involving British spies plus criminals on a much higher scale than he, and to save his skin he agrees to become an agent for the British secret service.
It is a great adventure tale in which a basically cowardly man finds himself part of a major jewel heist. To maintain his cover he must perform dangerous feats in Istanbul's ancient Topkapi palace, all the while knowing that the British are completely following the wrong people.
I think I saw the movie once and found it ridiculous, but now that I have read the book and know what was really going on, I am going to watch it again. (Netflix has it on DVD.) Ambler was a forerunner of John le Carre, a contemporary of Graham Greene, but puts a spin on the spy genre that is all his own.
Ian Fleming of the James Bond books also fits into this genre. Reading all these different authors of Cold War spy fiction written in the early years of that era has given me a look into British intelligence during those times. One of these days I will figure out how the CIA fit into the picture then.
Does anyone know of novels about American spies during the Cold War that were written and published in the 1960s? Suggestions welcome.